BITACORA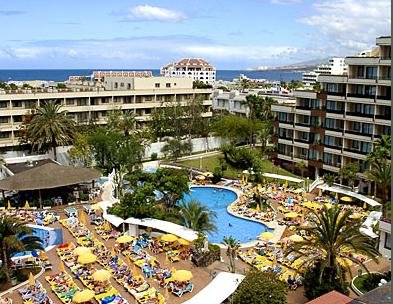 The Hotel Bitácora**** situated in the heart of Playa de Las Américas and surrounded by a, sub-tropical garden is the perfect family hotel. It is only a short stroll from the shopping and entertainment area and the beach and near the golf course (1 km).
While their parents relax in comfort, the children enjoy facilities and services especially adapted for them, like the water chute and  "Nenelandia" playground. Delighted with its spacious rooms, delicious buffets and friendly, efficient staff, guests of all ages feel at home.
ACCOMODATION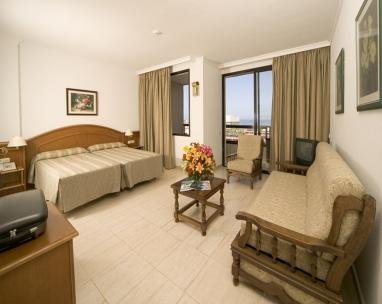 ROOMS
The rooms in the Bitácora are spacious and can comfortably accommodate up to 3 adults and 1 child up to 10 years, or 2 adults and 2 children up to 10 years.
There are two room types in our hotel:
Standard Room includes: mini-bar, hairdryer, air conditioning, satellite TV, terrace or balcony.
Superior Room includes: mini-bar, hairdryer, air conditioning, satellite TV, terrace or balcony. There are following extra's in all our pool view room (former superior): free safe, bath robe, pool towels, wine and dried fruit on arrival.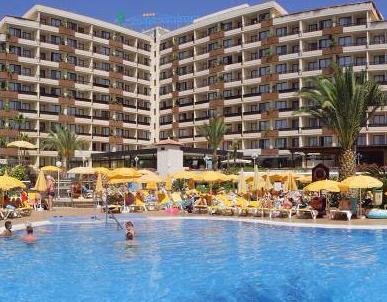 FACILITIES AND SERVICES

For Children

In addition to the pools we have a dedicated area for children called "Nenelandia" which has 2 play structures, one for children 2 to 4 years and one for children 5 to 12 years. In the same area we also have Mini Golf, Boules, 1 Tennis Court and a shuffleboard track for all to enjoy.
For those who wish to take part, there is a full programme of daytime activities organised for both adults and children.

Restaurant

Our main Restaurant offers a Buffett Service for Breakfast, Lunch and Dinner as well as choices from the Show Cooking Grill, which is greatly appreciated by our customers.
Our poolside "La Palapa" Snack bar offers the choice of lunchtime snacks or à la carte meals for your enjoyment. Dress code: Please be advised, that a dress code for gentlemen is applied at the dinner time (long trousers and shirts with sleeves and closed shoes).

Many of Hotel Bitácora's guests return year after year to spend another delightful family holiday at the finest family hotel on Tenerife.

* Some services are paid directly at the hotel .