ISLAND Village
Pictures. ISLAND VILLAGE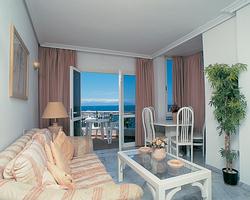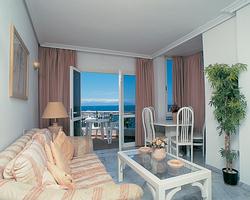 Description. ISLAND VILLAGE
The resort was built over a period of years commencing in 1985. It opened for the first members to use it in June 1986.
Leave the airport onto the TF1 motorway signed 'Los Cristianos' (You will not see signs for Playa De las Americas from the airport).
When on the TF1, the sea will be on your left-hand side (If not you are going the wrong way, north towards SANTA CRUZ). Leave the TF1 at Salida (exit) 29, San Eugenio, Parque Aquatico, proceed up the hill for approx. 250 yards. When the road forks, take the left hand fork (remember to stay to the right as you fork off, as any oncoming traffic will approach on your left hand side).
Follow the road (it takes a large loop to the left), and when you see the Aquapark Octopus on your left, Island Village is approx. 500 yards past this on your right.
South airport to Island Village approx. 20/25 minutes.
Motorway exit to Island village approx. 5 minute
The hotel offers to theirs customers 6 swimming pools and one terrace to take the sun
Rooms. ISLAND VILLAGE
Every unit has a patio area with table and chairs plus sun loungers. An umbrella is available on deposit. Some units at ground floor level have a garden with a lawn and flowers or shrubs.
Bathroom with sinks
Kitchen
King size bed
Shower
Fridge / Freezer
Safe **
Bathtub
Oven
Living room
Satellite TV
Microwave
Terrace
Direct line phone
Irons with table
Services. ISLAND VILLAGE
HOTEL SERVICES
Service of reception 24 hours
Game area
Swimming pool bar
Supermarket
Sun loungers
Restaurants
Outdoor pool
Parasols
Highchairs
Fresh water pool
Jacuzzi
Coverage movil phone
Heated pool
Solarium
Parking
HOTEL INFORMATION
Year of construction : 1985
Last reform : 2005
Number of floors (main building) : 2
Apartments : 180
Terrace
* Some services will be paid directly into the accommodation.